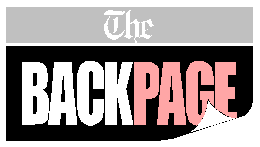 ---
". . . as long as I have it, they can't hit it."
-Lefty Gomez-
---
The Trading Season Interviews

Lefty Diamond here on The Dugout Sports Network. Stay tuned to this web page for all the breaking trade news of concern to the OOSL Athletics. Right now there is lots of excitement in Philadelphia's north side as the Athletics Base Ball Club prepares for the 1998 season. News of what was brewing in the A's front office over the winter broke with the opening of the 1998 OOSL Trading Season on February 1st. The first day of the end of the Winter Layoff brought welcome news to the die-hard Athletics fan. Owner and General Manager Big Ed held a news conference on the pitchers mound of Shibe Park amid chilly 30 degree F weather. He started out by declaring that he has ceased all efforts to trade Eddie Collins, and that Collins would be the Keystone Sacker for the club for some time to come. However, he did mention that there might be efforts to get Ryne Sandberg. How that all plays out is anyone's guess at this point.

That news led to Big Ed speaking nearly 15 minutes on what having Collins solidly on the team, without any doubt of his staying, would do for the confidence level of the club. Because of limitations of web server space we have edited his response to just the pertinent remarks.

"Ya gotta know who's in your room when you wake up in a fleabag hotel on the road in Saint Looie durin' the pennant race!" declared Big Ed.
Collins himself greeted the news with nonchalance: " I always knew the big galoon wouldn't be able to find anyone as good as me nohow, nowhere."

The Collins announcement would have put the future of Minor League second baseman Miller Huggins on hold indefinitely, except that Big Ed had already packed Hug's bags and shipped him off to National League New York, where he was immediately sent to American League New York along with the surprise player in the deal. It was this deal which really stood the cold crowd gathered on the snow-covered Shibe Park infield on its ears. It wasn't the fact that Miller Huggins, who many thought would be on the A's Major League roster in 1998 as either the starter or as Collins' backup, was shipped out. No, many clubs had expressed an interest in Huggins. That he was traded instead of brought up to the big club was not too much of a surprise. Everyone knew that 1998 would not find Hug on the Minor League bus. However, he wasn't alone in the deal -- and that was the part which turned heads. As Big Ed put it:

"Management, I said "That's me!" had a problem with only one player on this club. He is a great player, I said: "He's in a class by himself." And that's the problem -- he was always by himself. Are ya listenin' to me? I said: "This here's a team effort, and even the great ones gotta realize it -- or I'll ship'em to that other League." I said: "There can only be one rooster in the henhouse!""

Big Ed went on for quite a while after that, but nobody had to be told he was talking about the Philadelphia Loner, the fireballing submariner, Carl Mays. Even though Sub was never comfortable on the club, always preferring to be by himself and never mixing with the other guys, nobody expected Big Ed to let him go. Sub has put together one of the most outstanding careers in OOSL history. However, he was not at all happy with the new role of Middle Relief Man given to him last year by by Field Manager Jewel Winklemeyer Ens. Everyone knew something had to be done about that situation, and most thought Mays would be returned to the starting rotation in 1998.

As everyone present forgot the cold, wintry wind whipping through Shibe Park, Big Ed came around finally to the details of the deal that sent Miller Huggins and Carl Mays packing to OOSL National League New York . . .

"The Fire's coming down from New York on the next bus! Guaranteed to heat the North Side of Philly up! (And grab a few fans from the South Side too, I reckon) I'm speaking of the one and only . . . and only I could've brought him here -- are ya writing this down? . . . yessiree, I said we got the one and only Smokey Joe pitching for us now! I said: "Howard Ellsworth "Smokey Joe" Wood!" Ain't nobody nowhere throw the ball any harder than Smokey Joe Wood, and we got him!"
Smokey Joe himself, when mobbed by reporters at the bus stop later was quoted as saying: "I'm glad to be here. I can't wait to meet the fellas on the team, and say "Hi!" to all the great fans here in Philly that I've heard so much about. I'm just sorry that Pedro won't be staying here with me."

Smokey Joe's reference to "Pedro" was to his travelling companion, Pedro Borbon. The complete deal saw both Wood and Borbon coming to Philadelphia, but Big Ed, in one of his characteristic moves, immediately sent Borbon packing in another deal. Pedro was joined by a despondent Cesar Cedeno, an upbeat Lee May, and a travel-weary Johnny Vander Meer as the bus headed out to Baltimore. Johnny "The Dutchman" Vander Meer had just got into town from National League Saint Louis. Here's how Big Ed broke the news . . .

"I told ya all before we needed another big arm and bat on this team. Were ya listening when I said that? Well, there was another mighty fine second baseman we had that wasn't gonna find any playing time with Collins hanging around. You know who I'm talking about? Bill Mazeroski, that's who! Well, I sent him over to Saint Looie with "Butch" Keltner. I said: "We got Jesse Lee Barfield and his rocket arm and home run bat to help patrol our outfield!""

The full details of the deal involved Bill Mazeroski and Ken Keltner going to National League Saint Louis for Johnny Vander Meer and Jesse Barfield. Vander Meer's return to Philadelphia was extremely short-lived, and Big Ed immediately sent him to Baltimore with Cedeno, May and Borbon. That was the last deal explained by Big Ed this day.

"We had a couple of hot prospects in the Minors we felt would get a better deal across the way in Baltimore. Of course I thought that a few of their guys would find more work over here. I said: "Cesar blew it last year when we gave him the chance!" Lee May has a mighty fine bat, but his glove's got a hole in it -- so we sent him packing too. I said: "He's too big to get around the corners!" So I brought some hot shots into town. We got Steve "Mr. Clean" Garvey, "Junior" Gilliam, Garry "The Mad Ox" Maddox and "Rags" Righetti."

Filtering out the rest of Big Ed's speech determined that Steve Garvey was going to get a long look at filling the starting first base job, and Harmon Killebrew would be moving to third base for 1998.
Harmon had this to say about that: "I'll play anywhere. First base, third base, second base or left field don't make no nevermind to me. I get paid to wallop the hide off the ball."

As for the others, Rags Righetti was penciled into the bullpen staff while Junior Gilliam may just snag the utility infield role from the now-displaced Ezra Sutton and Deacon White -- as neither of them can play second base in case Collins goes down with an injury. Garry Maddox will compete for the open outfield sub spot with newcomer Jesse Barfield. Chicken Wolf and Oscar Gamble seem to be the principal competition in the outfield from last year. By inference, Big Ed revealed that Dave Winfield looks to have his role expanded to be the regular left fielder for 1998.

In conclusion, for North Side Philly Fans it is best summed up as Big Ed said:

"I said: "We got more than a good chance o' nailing the trophy on the wall!" Are ya listening to me?"

Well, there you have it folks -- the beginning of the OOSL 1998 season. This is Lefty Diamond signing off for the Dugout Sports Network.



The Complete 02/01/98 OOSL Trade Announcements





To CLA - MMcGwire, JDobson
To MON - BBonilla, KNichols

To PHA - SWood, PBorbon
To NYN - CMays, MHuggins

To NYA - JMcGraw, CAnson, CMays, MHuggins
To NYN - TLazzeri, MSuttles, LGomez, PTraynor

To CHA - GSisler, MGrady
To NYA - RPalmeiro, ERommell

To BOA - JRobinson, LGomez
To NYN - MOtt, ELopat

To CHA - SMiller
To SLN - MCarey

To SLN - BMazeroski, KKeltner
To PHA - JVander Meer, JBarfield

To BAA - CCedeno, JVander Meer, LMay, PBorbon
To PHA - GMaddox, DRighetti, SGarvey, JGilliam


---
Previous BackPage articles are available through the text-links below:
---
"I only have trouble with fly balls."
-Carmelo Martinez, OF-
---




---
- OOSL Athletics Section Index -
Athletics / Final Standings / Player Statistics / Team Statistics / Athletics Narrative / Shibe Park / Logo / / Batting Leaders / Pitching Leaders / Minor League Affiliate
- Athletics History Section Index -
1994 Season Stats / 1995 Season Stats / 1996 Season Stats
- OOSL Section Index -
OOSL Net / OOSL Central
- Dugout Section Index -
Big Ed's Dugout / Links / Mighty Casey / Who's On First / Baseball / 3001
---
The Land of Beyond





Click here to send
E-Mail to Big Ed.



Copyright © 1997, 1998 MoonWolf Enterprises. All Rights Reserved.