OOSL Philadelphia Athletics Shibe Park Page
"It's deja vu all over again."
-Yogi Berra-
---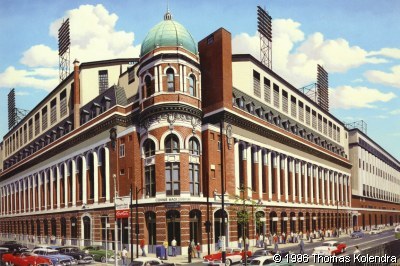 Shibe Park

---

Shibe Park, also known as Connie Mack Stadium, is the home field of the OOSL Philadelphia Athletics. The ballpark sculpts the team that plays within it. The ballpark is a monument to the teams, their fans and the towns they reside in. Yet rarely do we give the ballpark the attention it deserves. A ballpark is not just a construction of steel and concrete, it is an identity.




There is only one Yankee Stadium, only one Wrigley Field, only one Fenway Park -- and only one Shibe Park. In the sometimes bitter world of reality, Shibe Park is no longer with us. Shibe Park is dead. It was demolished in June, 1976. Its spirit left us during that year's All-Star Game, which was being played across town in Veteran's Stadium. But in the world of Strat-O-Matic and the OOSL, Shibe Park is alive and vibrant. Come, let's take a short walk inside Shibe Park.



---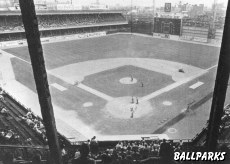 The History
---


Every ballpark has its own unique characteristics and history, even the cookie-cutter stadiums of the Seventies. Shibe Park is no exception. The park was named for Ben Shibe, an Athletics stockholder and baseball manufacturer. The designer and builder of Shibe Park was Joseph M Steele. It was the first concrete-and-steel stadium in the majors. The first game was played on April 12, 1909. It was renamed Connie Mack Stadium in 1953. We will call it Shibe Park, not out of any disrespect or lack of respect for Connie Mack, but because Shibe Park is its original name -- its persona. Connie Mack certainly has a major role in the mystique of Shibe Park. Connie Mack is to Shibe Park what Babe Ruth is to Yankee Stadium.



The seating capacity was in the original Shibe Park was 20,000 -- large for its day, tiny by today's standards. The upper-deck and left field stands were added in 1925, and brought the capacity up to 33,000. The mezzanine was added in 1929. Lights allowed the first night game to be played on May 16, 1939. Before 1935, residents of 20th Street could see games for free by peering over the low 12-foot high right-field fence. Connie Mack lost a lawsuit to prevent these "free admissions," so he had the high right-field "Spite Fence" built. In 1956, the old Yankee Stadium scoreboard was installed in front of the right-center field wall. In that same year, the page-fence backstop was replaced with a see-through plexiglass backstop.



Shibe Park was the Home of the Philadelphia Athletics (AL) from 1909 to 1954. It was also the home for the Philadelphia Phillies (NL) from 1938 to 1970. The Phillies also played there for part of 1927. The last game was played on October 1, 1970. The home plate was moved to Veteran's Stadium in 1971.



---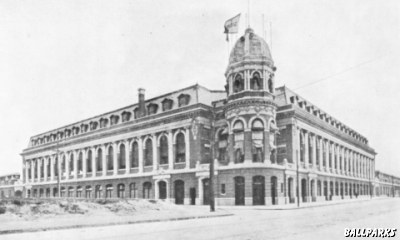 The Dimensions

---


Shibe Park is located in the north side of Philadelphia, Pennsylvania. Its boundaries are made up of West Somerset Street (Left Field (N)), North 21st Street (Third Base (W)), West Lehigh Avenue (First Base (S)), and North 20th Street (Right Field (E)).



Every park goes through growing pains. Shibe Park is no exception. Many such stages of growth are chronicled by the feats of the people who played within its confines, and these we hear often. But some are dated by the park's dimensions, these we don't hear hardly enough, especially since they impact greatly upon the play on the field. The placement of the walls, the foul lines, home plate -- all of it, can make or break a player -- and a team. Here is a history of the changes of the dimensions of Shibe Park:

---

Left Field:
360' (1909), 378' (late, 1909), 380' (1921), 334' (1922), 312' (1926), 334' (1930).

Center Field:
515' (early, 1909), 502' (late, 1909), 468' (1922), 448' (1950), 440' (1951), 460' (1953), 468' (1954), 447' (1956), 410' (1969).

Right-Center:
393' (1909), right-center, left of scoreboard: 400' (1942), 390' (1969);.

Right Field:
360' (early, 1909), 340' (late, 1909), 380' (1921), 307' (1926), 331' (1931), 331' (to lower, 1934), 329' (to upper iron fence, 1934).

Backstop:
90' (1942), 86' (1943), 78' (1956), 64' (1960).




Then, of course, there's the fences!



Left Field to Left-Center:
12' (4' screen above 8' concrete, 1949).

Center Field, Small Section:
20' (1955), 8' (wood, 1956), 3' (canvas, 1969).

Right-Center Scoreboard:
50' (top of black scoreboard, 1956), 60' (top of Ballantine Beer Sign, 1956).

Right Field:
12' (concrete, 1909), 34' (22' corrugated iron above 12' concrete, 1935), 30' (1943), 50' (1949), 40' (1953), 30' (1954), 40' (1955), 32' (1956).



---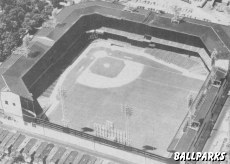 The OOSL Shibe Park
---


OK. So what does all that mean to the OOSL Shibe Park? Well, that's hard to answer -- except to say that the Shibe Park my team plays in is the embodiment of the spirit of the real Shibe Park, quantified and converted to electronic impulses (or the roll of the die). In other words, there is a formula used to quantify the historical effect of the park on the players.

---

To those who know Strat-O-Matic, I give these Strat dimensions:



                       Shibe Park, OOSL, 1997
                -------------------------------------
                |     Singles     |     Home Runs   |
                |  Left    Right  |   Left    Right |
                |    6        6   |    12      16   |
                -------------------------------------



"GREY.GIF" ALT=" [ ] " BORDER="0" VSPACE="0" HSPACE="20">Ah, but the story doesn't end there. Just as the dimensions of the park changed over the years, it can also change in the OOSL. This year a new Rule was put into effect, where all the parks of the OOSL were brought into line with their historical counterparts. In effect, the OOSL got a dose of reality. Along with the re-dimensioning of the parks by the Executive Committee, each Owner has the power to change their park's Strat dimensions by a factor of "2" just before each season starts. The new rule only allows a maximum variation from the historical average of 2 points either way. I am in favor of the new rules. I think it was a very much needed intervention. Anyway, here are the new Strat dimensions for Shibe Park next year in the OOSL:



                        Shibe Park, OOSL, 1998
                -------------------------------------
                |     Singles     |     Home Runs   |
                |  Left    Right  |   Left    Right |
                |    9        7   |    11      17   |
                -------------------------------------


"GREY.GIF" ALT=" [ ] " BORDER="0" VSPACE="0" HSPACE="20">Those are the historical averages for Shibe Park, and those are the numbers I choose to stay with for 1998. As you can see, they are not radically different from the previous year. However, even a minor difference can have a profound effect. After all, baseball is a game of inches . . .




---
"When I was a small boy in Kansas, a friend of mine and I went fishing. I told him I wanted to be a real major league baseball player, a genuine professional like Honus Wagner. My friend said that he'd like to be President of the United States. Neither of us got our wish."
-Dwight D. Eisenhower-
---




---
- OOSL Athletics Section Index -
Athletics / Final Standings / Player Statistics / Team Statistics / Athletics Narrative / Shibe Park / Logo / / Batting Leaders / Pitching Leaders / Minor League Affiliate
- Athletics History Section Index -
1994 Season Stats / 1995 Season Stats / 1996 Season Stats
- OOSL Section Index -
OOSL Net / OOSL Central
- Dugout Section Index -
Big Ed's Dugout / Casey At The Bat / Who's On First / Links / Baseball / 3001
---
The Land of Beyond





Click here to send
E-Mail to Big Ed.



Copyright © 1997, 1998, 1999, 2000 MoonWolf Enterprises. All Rights Reserved.